Orthopedic ONE is proud to be the Official Sports Medicine Provider to Northwest FC. Through this partnership, Orthopedic ONE offers weekly onsite clinic hours, featuring no cost consultations with an Orthopedic ONE Certified Athletic Trainer, access to our Sports Medicine Hotline, [(614) 827-8210] injury prevention and related health resources.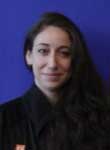 Orthopedic ONE's Liz Sares is Northwest FC's dedicated Certified Athletic Trainer. Liz began practicing at Orthopedic ONE in March 2021, after working at Tiffin University for two years. Liz completed her Master's degree in Athletic Training at Ohio University, where she served as the club sports program's athletic trainer. Liz graduated from the University of Toledo with her Bachelor's degree in Athletic Training and became a Certified Athletic Trainer in 2017.
"Something will grow from all you are going through, and it will be you."
Specialized Focus: Evaluation, diagnosis and treatment of acute and chronic sports related injuries. Use   of functional exercises and modalities to rehabilitate injuries. Specializes in gradual return to sports post-injury using evidence based functional progressions. Evaluation, diagnosis, and management of concussions and other sports related head trauma.
Hobbies/Special Interests: Walking my dog, cooking, baking, and video games
Why do you work at Orthopedic ONE? I enjoy encouraging people on their worst days and working with them to achieve their best days where they have met their fitness and functional goals. One of the most rewarding feelings is seeing how far a patient or athlete has come and helping them overcome seemingly insurmountable obstacles. I also enjoy educating patients on the anatomy and physiology of their particular injury and guiding them to use exercise and nutrition to improve their quality of life.
Past AT Experience, Playing Experience and Affiliations:
Ran Track and Field throughout high school at Sylvania Southview and in college at the University of Toledo.
Tiffin University: Athletic Trainer to the Men's Soccer, Wrestling, Football, Women's Golf, and Women's Tennis teams
Ohio University: Athletic Trainer for all club sports, primarily served the Men's and Women's Soccer, Men's and Women's Rugby, and Hockey teams
Liz holds weekly walk-in clinic hours during soccer season at Spindler Park on Thursdays between 5:30 PM-7:30 PM
Contact the Orthopedic ONE Sports Medicine Hotline to schedule an injury check at another sports medicine location outside of these hours.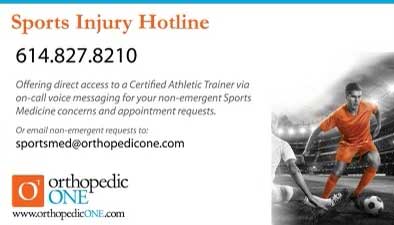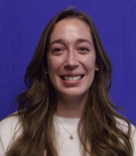 Orthopedic ONE has recently welcomed Megan Stanley, MS, RD, Registered Dietitian to our staff. Megan will provide individualized Medical Nutrition Therapy (MNT) to patients in our clinics, and to the athletes, families, and clubs we serve through our Sports Medicine Outreach program. MNT is important for sport, as food is fuel for success. Proper nutrition provides the energy to perform and supports recovery and micronutrient needs.
What are the benefits of MNT?
MNT accounts for the specific needs of each person based on their sport and activity level. What we eat and when we eat it can enhance performance and recovery. Nutrition is becoming a hot topic these days, and with so much misinformation out there it is hard to know what is true! Registered Dietitians are trained as experts in all things food, and can guide you to reach your goals and obtain optimum performance based on your lifestyle.
What Does MNT Cost?
Medical Nutrition Therapy is a well-established form of medical therapy offered by Orthopedic ONE through a self-pay program. The self-pay rate is $75 for an initial consult and $50 for a follow-up appointment. These visits can be held in-person or virtually and are quite reasonably priced compared to similar services in the area. Insurance coverage for MNT has very specific diagnosis requirements and thus is very limited.
More about Megan
Megan received her undergraduate degree in nutrition from Penn State University and continued her education at The Ohio State University, earning her master's degree in medical dietetics. While at Ohio State, she spent 1.5 years working in the Sports Nutrition Department with Ohio State Athletics. She went on to complete a fellowship in sports nutrition at the Duke University Athletic Department. Prior to joining Orthopedic ONE, she worked as a Registered Dietician at a local primary care and performance medicine office.
For more information on Medical Nutrition Therapy, contact the Orthopedic ONE Sports Medicine Team through the Sports Medicine Hotline at 614-827-8210 and sportsmed@orthopedicone.com or contact Megan directly at mstanley@orthopedicone.com.