Orthopedic ONE is proud to be the Official Sports Medicine Provider to Northwest FC. Through this partnership, Orthopedic ONE offers weekly onsite clinic hours, featuring no cost consultations with an Orthopedic ONE Certified Athletic Trainer, access to our Sports Medicine Hotline, injury prevention and related health resources.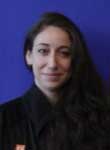 Orthopedic ONE's Liz Sares is Northwest FC's dedicated Certified Athletic Trainer. Liz began practicing at Orthopedic ONE in March 2021, after working at Tiffin University for two years. Liz completed her Master's degree in Athletic Training at Ohio University, where she served as the club sports program's athletic trainer. Liz graduated from the University of Toledo with her Bachelor's degree in Athletic Training and became a Certified Athletic Trainer in 2017.
"Something will grow from all you are going through, and it will be you."
Specialized Focus: Evaluation, diagnosis and treatment of acute and chronic sports related injuries. Use   of functional exercises and modalities to rehabilitate injuries. Specializes in gradual return to sports post-injury using evidence based functional progressions. Evaluation, diagnosis, and management of concussions and other sports related head trauma.
Hobbies/Special Interests: Walking my dog, cooking, baking, and video games
Why do you work at Orthopedic ONE? I enjoy encouraging people on their worst days and working with them to achieve their best days where they have met their fitness and functional goals. One of the most rewarding feelings is seeing how far a patient or athlete has come and helping them overcome seemingly insurmountable obstacles. I also enjoy educating patients on the anatomy and physiology of their particular injury and guiding them to use exercise and nutrition to improve their quality of life.
Past AT Experience, Playing Experience and Affiliations:
Ran Track and Field throughout high school at Sylvania Southview and in college at the University of Toledo.
Tiffin University: Athletic Trainer to the Men's Soccer, Wrestling, Football, Women's Golf, and Women's Tennis teams
Ohio University: Athletic Trainer for all club sports, primarily served the Men's and Women's Soccer, Men's and Women's Rugby, and Hockey teams
Liz holds weekly walk-in clinic hours during soccer season at Spindler Park on Thursdays between 5:30 PM-7:30 PM
Contact the Orthopedic ONE Sports Medicine Hotline to schedule an injury check at another sports medicine location outside of these hours.